How To Choose The Perfect Plus Size Wedding Dress in 2022?
Finding the right wedding dress in plus sizes may be a hassle, particularly when you are on the run, and running out of time. But we are here to help you with finding the appropriate plus size formal dresses for weddings, whether these wedding gowns or bridesmaid dresses.
The Perfect Plus-Size Wedding Dress for Your Special Day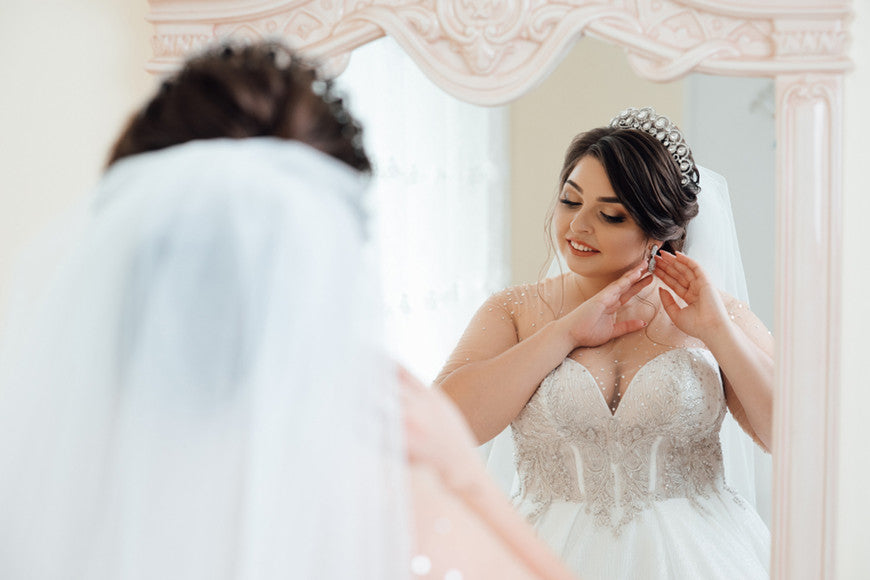 You have the ring, the right guy to walk down the aisle with, and the music for your first dance as a married couple, but no dress. We have the right plus-size wedding gowns, as well as the 2022 season's trends.
Among the most popular cuts is the loose dress that reveals your exquisite feminine elbows and neck and has a great side cut on the leg. Next in line is the beautiful V-neck mermaid gown, which has a stunning décolletage and is complemented with an incredible veil and chandelier earrings. And for this chilly season, check out the long-sleeved, full-length maxi dress with a waist tie and a round collar. Wear your favorite white or silver high heels and dance the night away because you will steal the show in these
plus size wedding gowns
.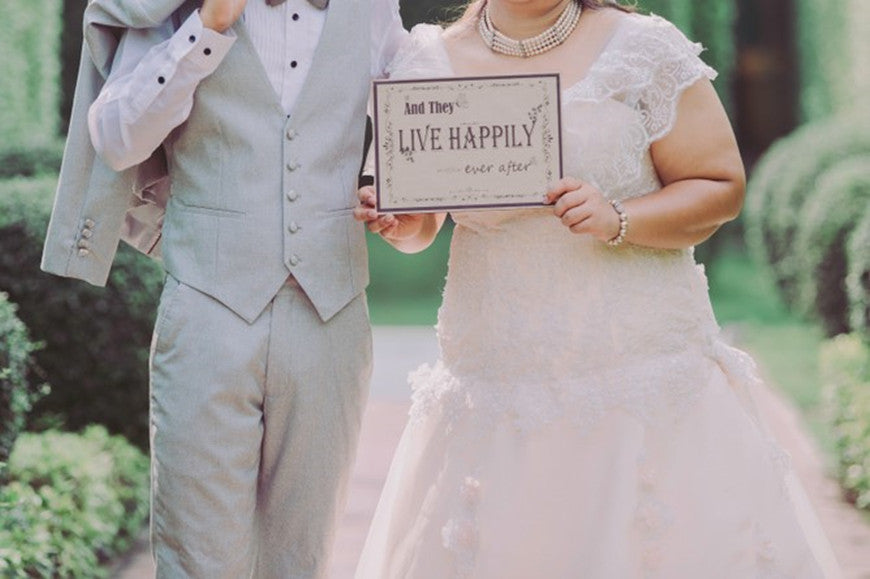 On your special day, do not be afraid about showing off your attractive features, including your arms, legs, and neck, along with a big grin. You will be the most beautiful, elegant, and joyful person that day, and you will have both your fiance and your ideal gown to thank.

Your very particular wedding dress may be made of high-quality materials and yet be reasonably priced. Do you not believe us?

Check out these stunning plus size wedding gowns that are designed just for plus size ladies. We have hand-selected the most feminine and finest selections to save you time and make shopping enjoyable again.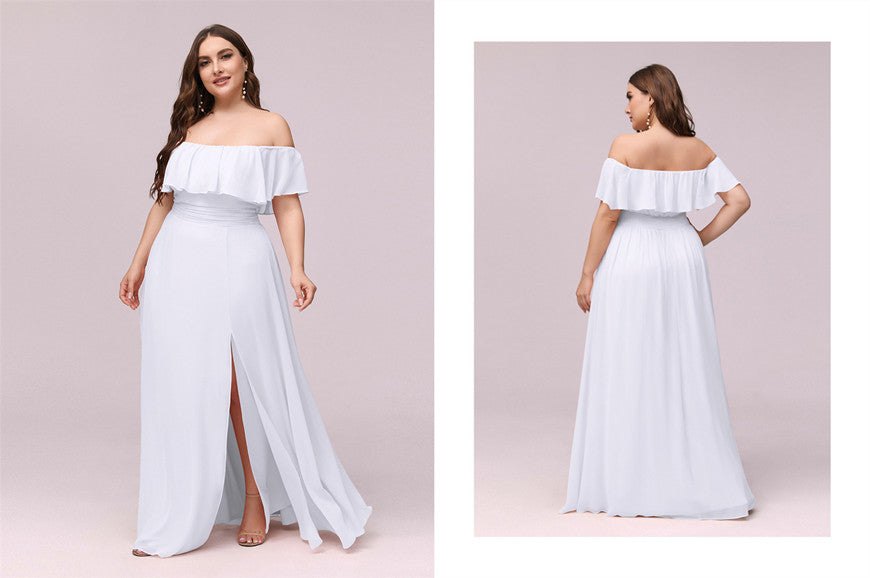 The first dress, which exposes the elbows, emphasizes the waist, and reveals a little portion of the leg, is a beautiful, but demure alternative for your magnificent wedding.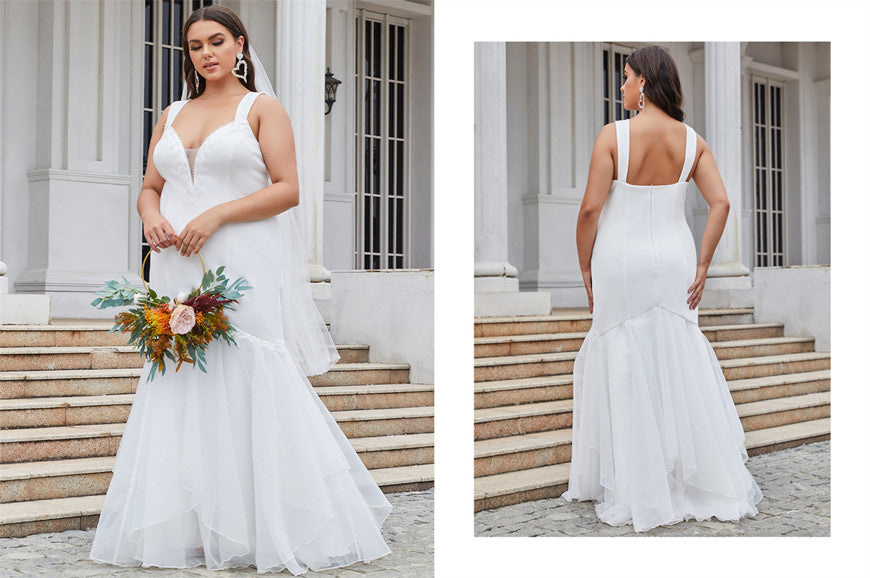 The second dress is a more daring cut and mermaid silhouette, showing your full glory with its V-neck cleavage, arms for all eyes to feast on, and stunning veil detailing.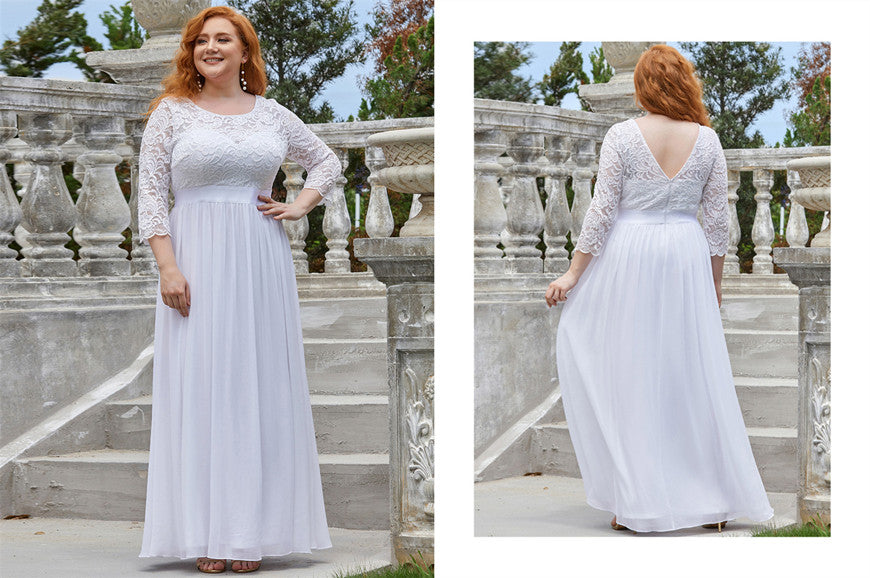 And number three is here to spark our creativity with cropped sleeves, lace, and the ever-classic full length.
Prepared to Rock the Night and the Photoshoot as the Sexiest Bridesmaid?
You don't want to steal the show; it's your friend's wedding, but a little flair in the appropriate plus size bridesmaid dresses didn't harm anybody. The season's trends include sumptuous, glitzy detailing, lace, and Swarovski crystals that will set you up for an unforgettable evening, and beautiful photographs. Full-length sleeves with a cut and airy look, together with a full-length A-line silhouette, will function magnificently.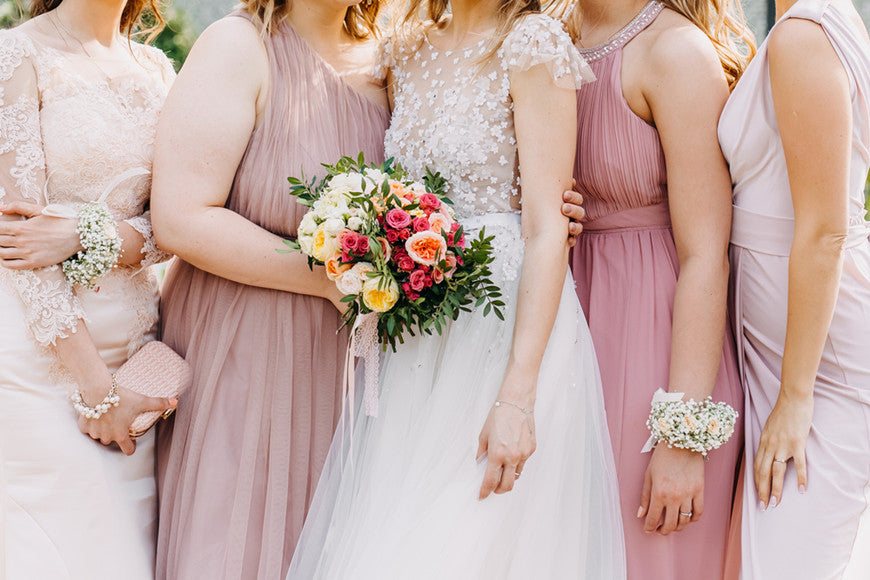 The colors of the season are nude, lavender, and baby blue, and if you are able to get a tan before attending the event, you will contrast those colors magnificently. Lace, taffeta, and triple-veil plus size bridesmaid gowns are trending this wedding season.

Since winter has arrived and maxi dresses are particularly fashionable this season, you may choose to cover up a little. But not too much, right? However, there is no such thing as too much when it comes to fabric quality, so review our recommendations below.

We will now provide three selections of superb craftsmanship on attractive plus-size bridesmaid dresses that match your body type.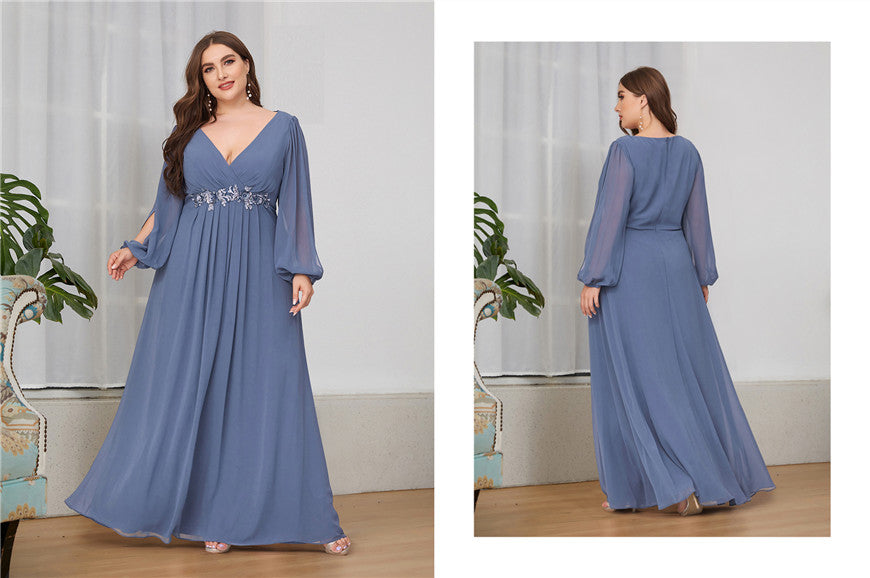 We present our first navy blue V-neck, full-length, long-sleeved dress with a cut and crystals-cordon to accentuate your waist.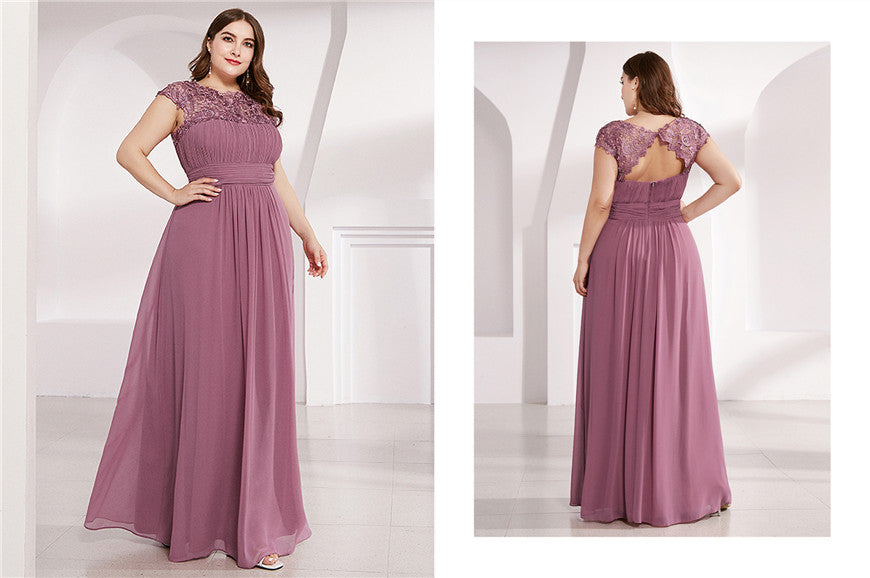 Next in line is the A-maxi dress with handmade embroidery in the top portion and delicate lavender folds.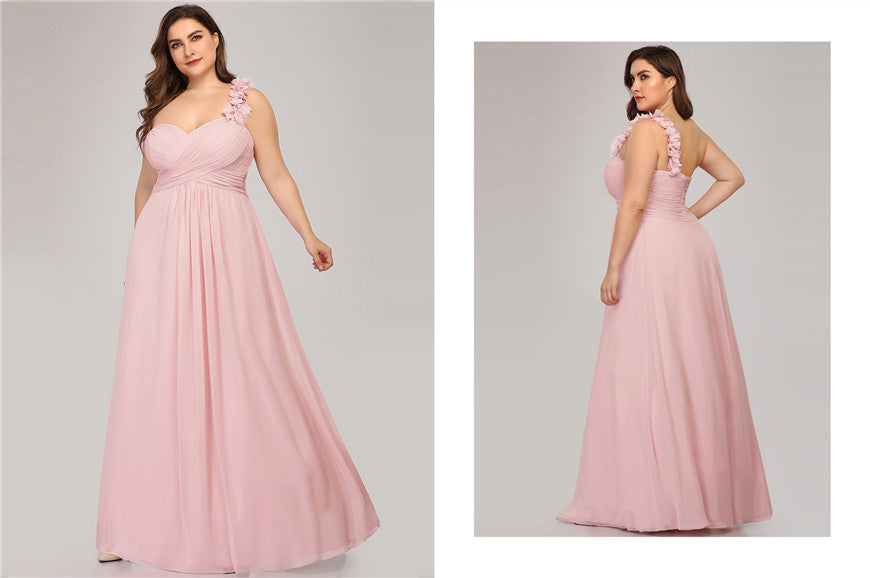 And last but not least, another A-line with V-neck and full length, with flowery, sensual straps and showing your magnificent neckline, arms, and cleavage for an unforgettable look.
You don't need to be the Bride or the Bridesmaid to Look Amazing!
Transform from wedding visitor to guest-of-honor with plus-size formal dresses with bold shapes and accents. Textures should be luxurious and sumptuous, and sparkle should never be avoided. It is a wedding, after all, one of the most ostentatious events, so go wild.

Elegant colors are a necessary, and you may choose from burgundy, cobalt blue, or emerald green for your plus size formal dresses for weddings. Choose one that you will love and wear for years. Therefore, you should spend a little on your next formal clothing. Actually, you do not. We may have some quality-to-price recommendations listed below. But first, let's examine the season's most popular formal gowns.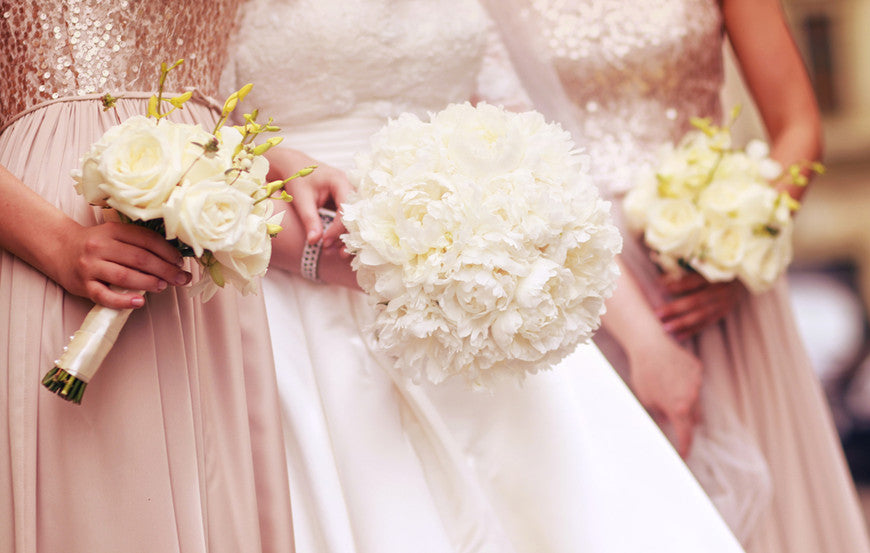 V-necks are trending, along with A-line dresses and maybe a side-cut on the leg; and V-neck cuts will pair well with dramatic and statement jewelry — earrings, collars, or all of the above. And don't be scared to let your hair grow wild and free to grab everyone's attention. Dare to shine in your plus-size wedding formal gowns.

And since talk is cheap, this is what you should dress as a wedding guest.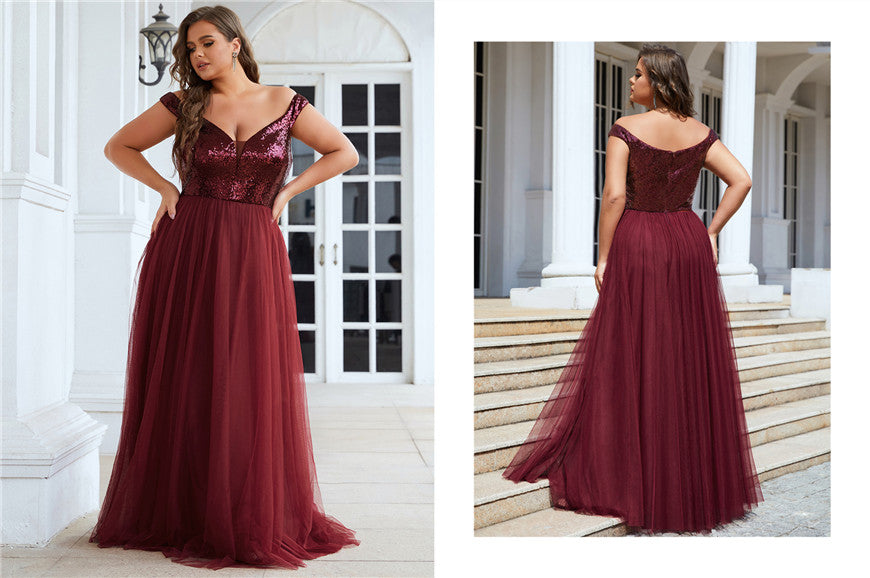 Dare to create an eternal impression with our first exquisite burgundy dress with long sleeves, side-cut and V-neckline, enhanced with glitter.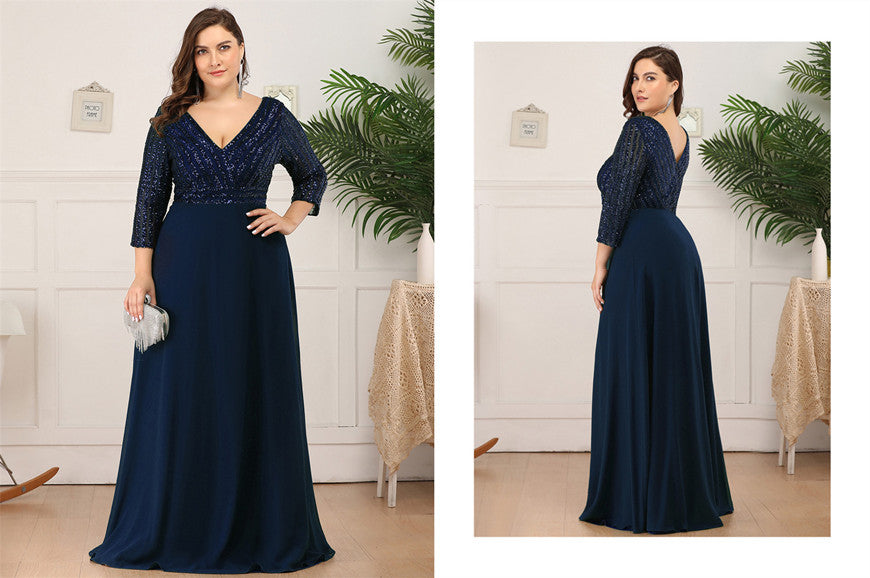 The second garment has cropped sleeves, full length, and a magnificent crystal-like fabric in the top portion that complements the bottom portion.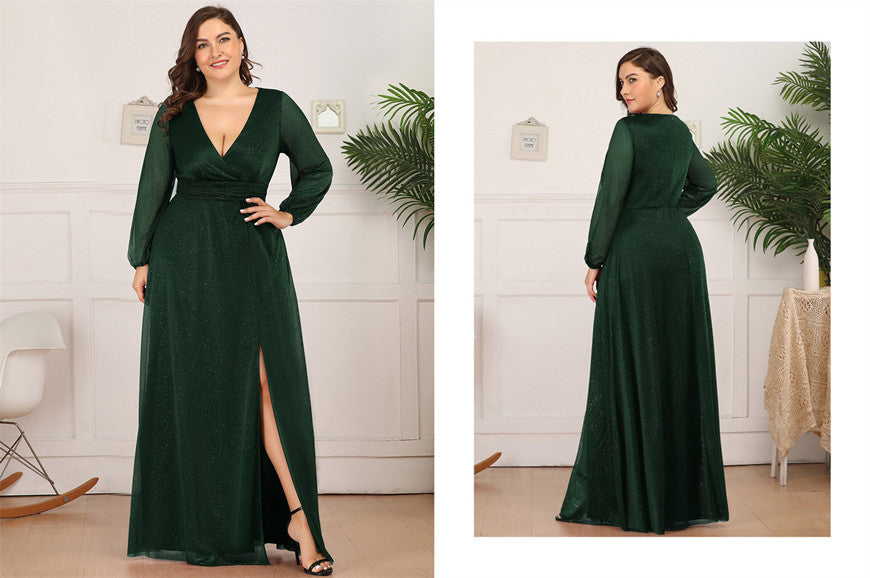 And delightful, magnificent number three with full-length sleeves, in gorgeous petroleum green and with that splendid side-cut on the leg, displaying just enough but leaving a nice aftertaste of intrigue and stimulation.
No Matter What Part you Play in the Event, you Will Want to Look Spectacular!
For this reason, we have created the most stunning plus-size wedding gowns at reasonable costs for your very important day.

If you are a bridesmaid who wants to rock the party in a maxi-length, feminine, breezy look, you will feel special in one of our plus size bridesmaid dresses. Keep in mind that you don't have to spend a fortune to get a dress that combines quality, durability, and affordability.

And for our party-loving guests, dramatic colors and magnificent materials will ensure that you may add another classic item to your collection and use it for a variety of formal events beyond this wedding.

Plus size formal dresses for weddings may leave a lasting impact and create a distinctive look, as long as you include a collectable and reuse it thereafter.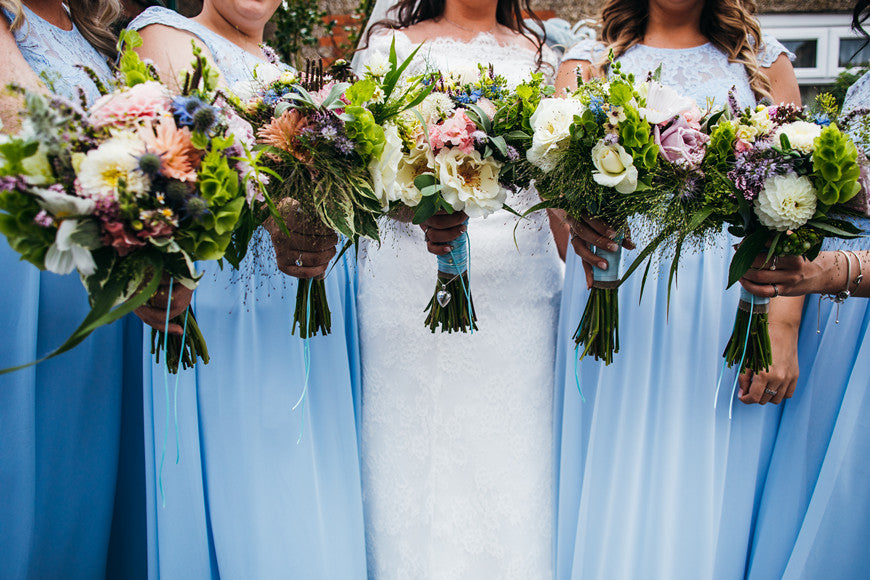 Weddings are about looking beautiful, showcasing your femininity and grace, and expressing your inner (and exterior) beauty via something as simple but wonderful as a dress to impress.

And if you want to avoid the lines, the needless chasing, and the long waits, remain with us and reread this post; we hope to have included choices for every acquired taste that will assist you in selecting gorgeous, exquisite, but reasonable gowns for all purposes, present and future. Rock out!